I mentioned recently that I have an awesome giveaway coming up, and I do! I will be reviewing and giving away a Tiny Love 3-in-1 Rocker Napper to one lucky mom! I have been using mine with my new little guy non-stop and, spoiler alert, I love it. And better yet, my giveaway will be part of the Summer Baby Loving giveaway HOP. You know what that means, right? More prizes!
So make sure to come back on August 8th, when the giveaway hop starts, so you can enter to win! If you are a blogger and want to participate in the giveaway hop, sign up below!
Welcome to the Summer Baby Loving Blog Hop Giveaway! Help celebrate the birth of Melissa's (Cloth Diapering Again) third baby. The Inquisitive Mom and Our Piece of Earth are co-hosting this event with Cloth Diapering Again. We are rounding up an awesome grand prize package with stuff for mom and baby. Each blogger must have their own prize (mom or baby friendly) to give away on their own blog worth at least $25. The requirements to participate in this blog hop are simple: Sign up below, grab the button below and put it on your blog, and share the announcement by linking back here! Don't forget the picture above for your announcement! Make sure to add your blog to the linky below. We will send out all html for this event before it starts. Spread the news and let's have some fun celebrating! All bloggers (except the hosts) will be eligible to enter to win the grand prize. Sign up here.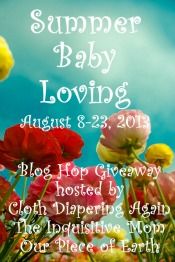 Link up your blog here: